Barcelona started the season in La Liga strongly. He came into the Qatar World Cup break as top of the table and not only did it thanks to the goal-scoring ability of his strikers, Lewandowski was particularly impressive: he's LaLiga's top scorer with 13 goals.
His top of the league table is also understood as a result of his great defensive work: the Catalans are the team with the least goals conceding in the main European leagues.
If the Poland international is La Liga's top scorer, Ter Stegen leads the Zamora Cup. The German goalkeeper, the undisputed player of Xavi Hernandez, has conceded just five goals in the 14 matches he has played. Thus, his average is 0.36 goals per match.
The next team with the best defensive record is Juventus: the Italian side conceded seven goals in their 15 Serie A matches, with an average of 0.47.
In La Liga, the second strongest defense is Villarreal, who conceded ten goals. Rowley played all of the league's matches for the Yellow Submarines. And the third is Real Betis.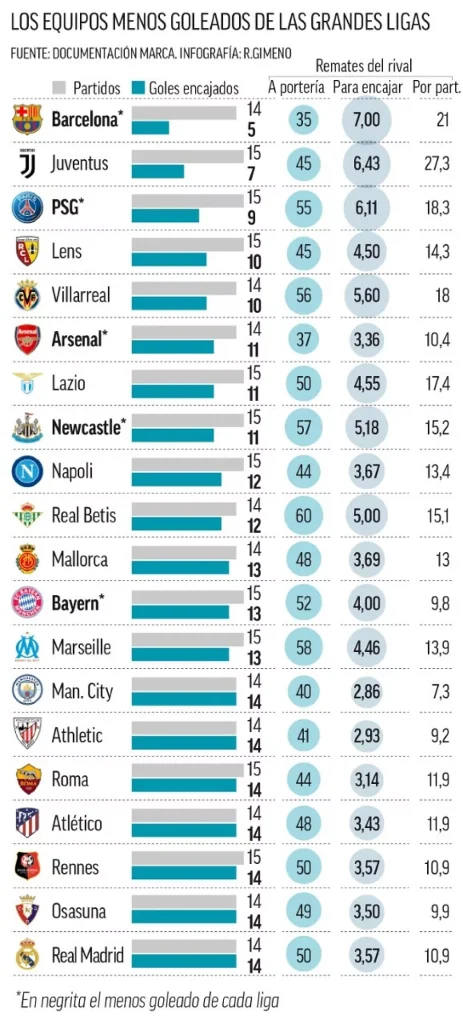 Barcelona's defense line is a real torment for the opposing attackers. The opponents need seven shots on target to beat Ter Stegen, who averages two saves per game.
The German has made 28 saves in this first stage of the competition, the fifth-lowest performer in this aspect in the five major tournaments on the continent. In front of him are the guards of Sassuolo, Manchester City, Athletic Bilbao and Lille.
Xavi was very clear that one of the keys to Barcelona's success is to strengthen the defense, and in the summer he signed Conde, Christensen, Marcos Alonso and Bellerin. Of the seven signings Barcelona concluded in the summer, four of them were defenders. And if they can sign another pro in January, it'll be another linebacker.
Source: Marca